Mixology: The Art of the Cocktail
Get ready to take your cocktail game to the next level! This dynamic course is designed to equip you with vital skills to master the art of crafting cocktails. Learn about the tools of the trade, common liquors and flavor profiles, preparing garnishes and much more.
Explore recipes for 34 best-selling cocktails and learn essential techniques like muddling, shaking, stirring and garnishing to elevate your drink creations to new heights.
Unleash your creativity, elevate your bartending skills and impress your customers and friends with this one-hour online course.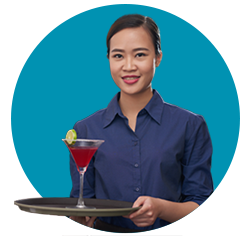 Who Needs Mixology Training?
Cocktail-making skills can be beneficial for any type of bartender or amateur mixologist. Here are a few examples of people who can boost their skills with this course:
Bartenders: Professionals who craft cocktails and serve drinks at bars, clubs, restaurants, private events or other hospitality establishments will learn vital aspects of drink service. Gain a deeper understanding of high-demand cocktail recipes, mixology techniques and customer service skills.
Hospitality Professionals: Those working in the hospitality industry, such as hotel staff, event planners and caterers, may encounter situations where cocktail-making skills are required. Having this knowledge can be advantageous when organizing events or providing personalized services to guests.
Home Entertainers: Individuals who host gatherings or parties at home can enhance their hosting skills with mixology training. Add a touch of sophistication to your events and impress your guests with delicious, well-crafted drinks.
Cocktail Enthusiasts: Many people are genuinely interested in mixology and enjoy experimenting with different flavors and techniques to create unique cocktails. They may pursue mixology as a hobby or a passion, constantly expanding their knowledge and skill set.
Ultimately, anyone interested in the art of mixology can benefit from this course. Whether you're learning for professional growth, personal enjoyment or next-level party hosting, crafting delicious and visually appealing drinks can be both rewarding and enjoyable.
Topics Covered in Mixology Training
The course is divided into five learning modules designed to elevate your bartending skills. Each module in the course builds upon the knowledge and skills acquired in the previous ones, creating a seamless and comprehensive learning experience. With each module, you will deepen your expertise in the art of drink-making, preparing you for success in this exciting field.
Module 1: Bar Tools
Delve into the essentials of a bartender's toolkit and gain a comprehensive understanding of how each tool is utilized to create high-quality drinks. Become proficient in using shakers, jiggers, bar spoons, glassware and other necessary tools used to craft exceptional beverages.
Learning objectives include:
Recognize bartender tools that are used with specific types of drinks
Recall the names and functions of various bartender tools
Apply your knowledge of bartender tools to their appropriate use in drink preparation
Module 2: Types of Liquor
Become familiar with the most commonly used varieties of liquor and their flavor profiles. Additionally, you will explore cocktail categories, learning about their defining features. Expand your knowledge of liquors and their role in crafting exceptional cocktails!
Learning objectives include:
Recognize common liquors used in craft cocktails
Recall the flavor profiles associated with different types of liquor
Describe the various cocktail categories and their characteristics
Module 3: How to Make Popular Drinks
Throughout this module, you will explore different cocktail styles, flavor profiles and ingredient combinations. Learn how to make a number of popular drinks and mocktails, allowing you to cater to a broader range of preferences. Additionally, you will learn how to make informed drink recommendations based on individual tastes.
Learning objectives include:
Recognize various cocktail styles and their ingredients
Distinguish between mocktails (non-alcoholic cocktails) and their alcoholic counterparts
Recall the flavor profiles of popular cocktails
Module 4: Garnishes
Master the art of garnishing to enhance the visual appeal and flavor profile of popular drinks. Learn to identify garnish options that perfectly complement your cocktails. Elevate your cocktails with beautiful and delicious garnishes while learning how to maintain freshness and hygiene standards.
Learning objectives include:
Recognize common garnish options based on the flavors of various cocktails
Recall the necessary steps to prepare different types of garnishes
Know the proper methods for cleaning, handling and storing garnishes
Module 5: The Industry
Gain valuable insights into starting your career in the bartending industry, including helpful tips and guidance for new bartenders. Additionally, you will explore different types of bartending jobs that are available to you.
Learning objectives include:
Identify essential situations to be aware of as a bartender
Recall various bartending jobs and the specific responsibilities associated with each role
Differentiate between the interpersonal skills and physical skills required for bartending